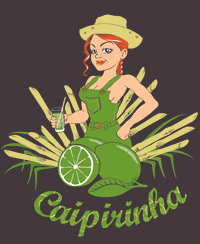 Cachaca's Caipirinha On The Rocks
"Caipirinha" is a the perfect mix of love, intelligence and energy wrapped up in a feminine version of her late father, Cachaca!!! She likes to play hard, sleep harder and will do anything for food. She loves us (her people) so much, I've never met a more loyal dog. She is an excellent representation of a Ridgeback and has so far made her daddy proud.

She has spent the first couple years as my demo dog and as Natalie's 4H project, however we are excited to announce that starting Feb. 2017 she will be shown and compete in numerous AKC & UKC shows, by both Natalie and myself!

Below you will find a little information on what a Caipirinha is. It took me months to decide on a name (it's a good thing I started before she was born). With her personality there is no doubt this drink fits her perfectly. Combine that with Cachaca and you have Brazil's national drink.
What does Caipirinha mean?
Worldwide, "caipirinha" is probably one of the most well-known words of Brazilian Portuguese, right up there with "bossa nova", "samba" and "futebol". But what does it mean, exactly, other than being the name of a absolutely delicious cocktail?

The word "caipirinha" is the diminutive form of the word "caipira". Brazilian Portuguese uses many diminutives, generally in a friendly and affectionate way (sort of like calling your partner or spouse "baby"). The word caipira refers to a person from the backcountry, someone who isn't citified or sophisticated. The best translation in English is "hillbilly" or "hick". So a caipirinha is, in effect, a "little hillbilly".
The Caipirinha

1/2 lime quartered
1 teas. white sugar
2 1/2oz Cachaca
1 cup ice cubes

In a large rocks glass squeeze and drop in 2 eighths of lime. Add sugar, crush and mix with a spoon. Pour in the cachaca and plenty of ice. Stir well.
 
Caipirinha
pronounced " 

(ky-pee-REE-nyah')

"
Rhodesian Ridgeback
Female
Color: Red Wheaten
DOB: 04.01.2014
Weight: 73lbs
Breeder: Jessica Bowers
CHIC#- 120141
OFA: Cardiac~ Normal
Thyroid~Normal
Hips~Good
Elbows~Normal
BAER~
Normal
CERF/CAER~
Normal
Dentition~
Full Dentition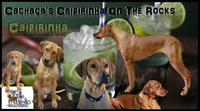 CH Nalzjehe's Starfire Steeler

CH Nalzjehe's Dream Catcher

Caramelo Gavena Zeca De Cardeiros

Ketaru's Zubia Imbali Nkisa

Kengali's Cleared for Take Off

Kengali's Heaven In Your Eye

Kengali's Spirit of Independence